Hey readers! Welcome to Trendphobia travel blogs. Nestled amidst the breathtaking beauty of the Uttarakhand Himalayas lies a hidden gem that beckons trekkers pilgrims and nature enthusiasts alike. Tungnath, situated at an altitude of 3,680 meters (12,073 feet) not only stands as the highest Shiva temple globally but also emerges as an enchanting trekking destination that offers a spiritual and natural journey like no other. In this blog post, let's embark on a virtual expedition to Tungnath exploring its significance, the thrilling trek to its sacred abode and the stunning natural beauty that surrounds it.
The Spiritual Significance of Tungnath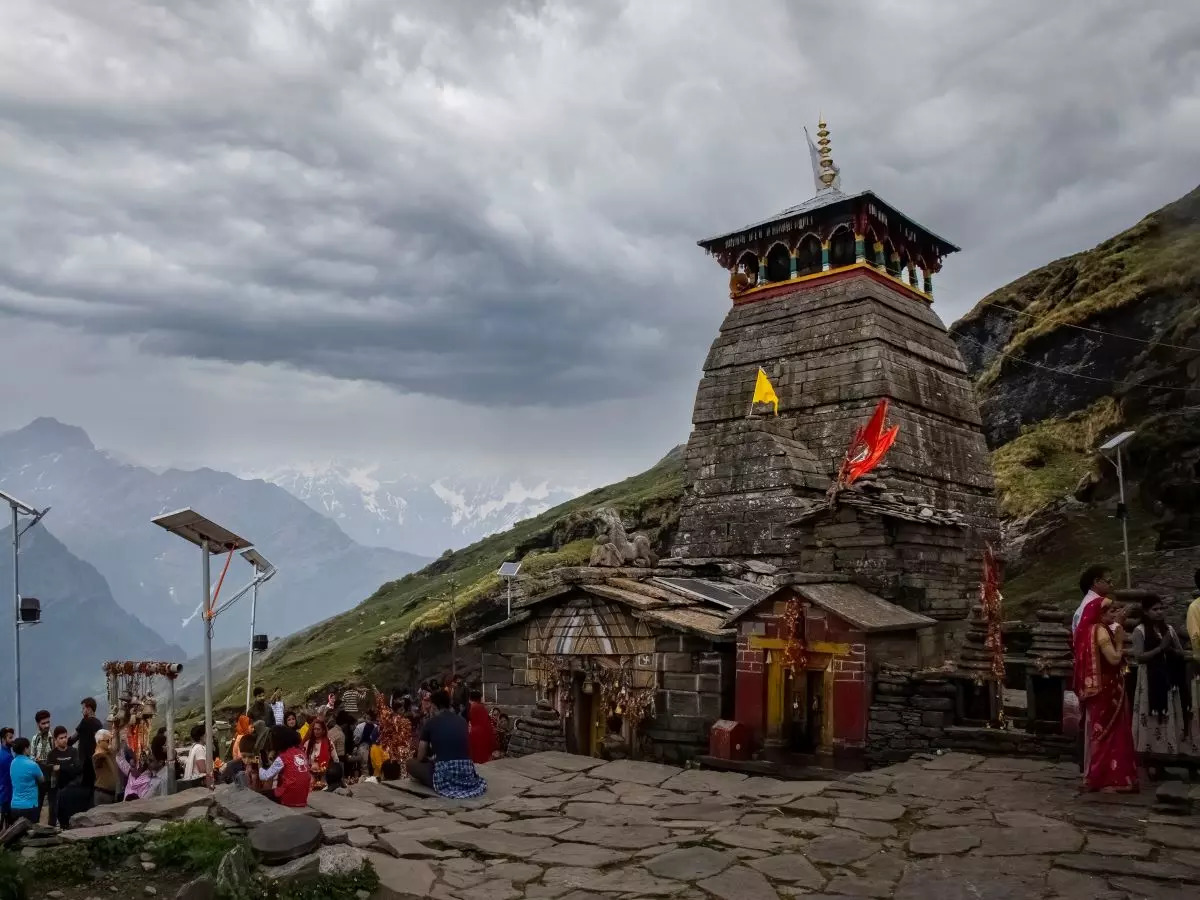 Tungnath occupies a special place in Hindu mythology and spirituality. It constitutes one of the five Panch Kedar temples dedicated to Lord Shiva scattered across the Garhwal region of Uttarakhand. According to legend when Lord Shiva transformed into a bull (Nandi) to evade the Pandavas he scattered his body parts across these five sacred sites. The trek to Tungnath is not merely a physical journey it's a spiritual one. Pilgrims and devotees undertake this trek to seek Lord Shiva's blessings and to establish a deep connection with the divine.
The Tungnath Trek: An Adventurous Journey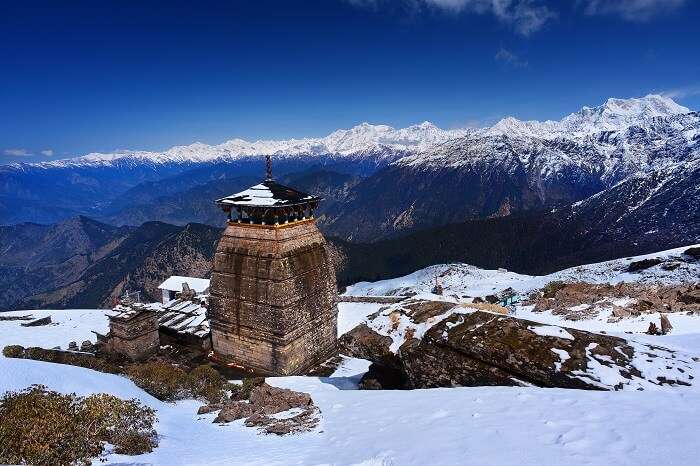 The trek to Tungnath promises an adventurous journey that takes you through lush alpine meadows, dense forests and pristine landscapes. Here's a breakdown of the trek
Chopta – The Base Camp: The journey commences at Chopta also affectionately known as the "Mini Switzerland of Uttarakhand". It serves as the base camp for the Tungnath trek and offers awe-inspiring views of snow-capped peaks including Nanda Devi and Trishul.
Trekking Trail: The trekking trail to Tungnath stretching about 3.5 kilometers (2.2 miles) in length and achievable within a few hours offers an accessible adventure. This well-marked path gradually ascends through lush rhododendron and oak forests presenting trekkers with abundant opportunities to deeply connect with the surrounding natural beauty.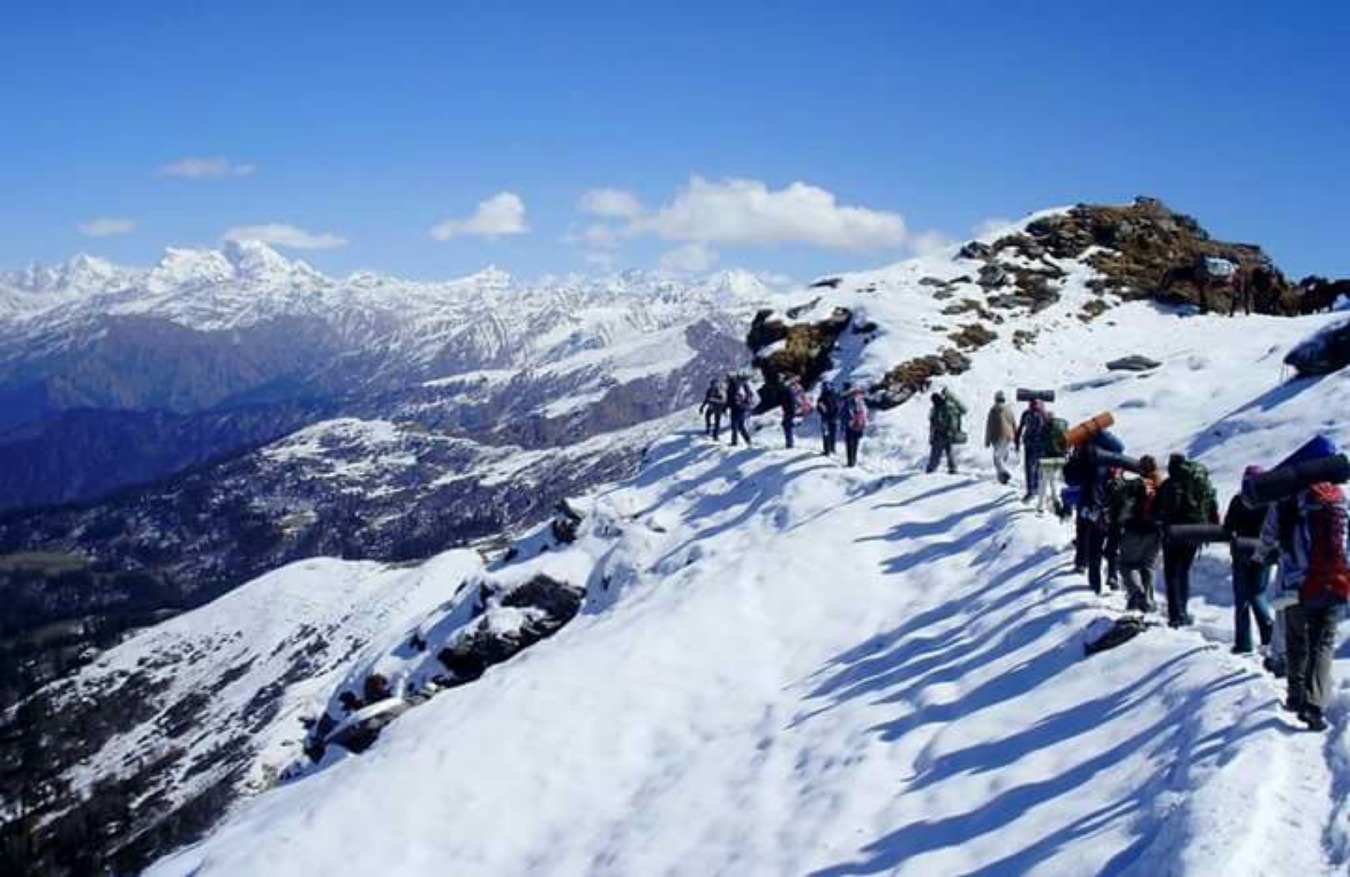 Tungnath Temple: Upon arrival at Tungnath the ancient temple dedicated to Lord Shiva greets visitors with its remarkable architecture and the tranquil ambiance that makes it an ideal place for meditation and introspection.
Chandershila Summit: For those adventurers seeking an extra challenge the trek can be further extended to Chandershila a majestic peak situated at an impressive altitude of 4,000 meters (13,123 feet). The panoramic views of the Himalayas from Chandershila, without a doubt are truly awe-inspiring and unquestionably worth the additional effort.
Nature's Bounty Surrounding Tungnath
Tungnath is not just about spirituality and trekking; it's also a haven for nature enthusiasts. The region is blessed with a diverse range of flora and fauna. During the trek you may come across Himalayan monal pheasants, musk deer and various species of birds. Furthermore, the area around Tungnath is renowned for its vibrant rhododendron blooms during spring, painting the hillsides in hues of red, pink and white. In winter the landscape transforms into a winter wonderland attracting snow enthusiasts.
Also read Valley of Flowers: A Botanical Paradise in Uttarakhand
Preservation and Responsible Trekking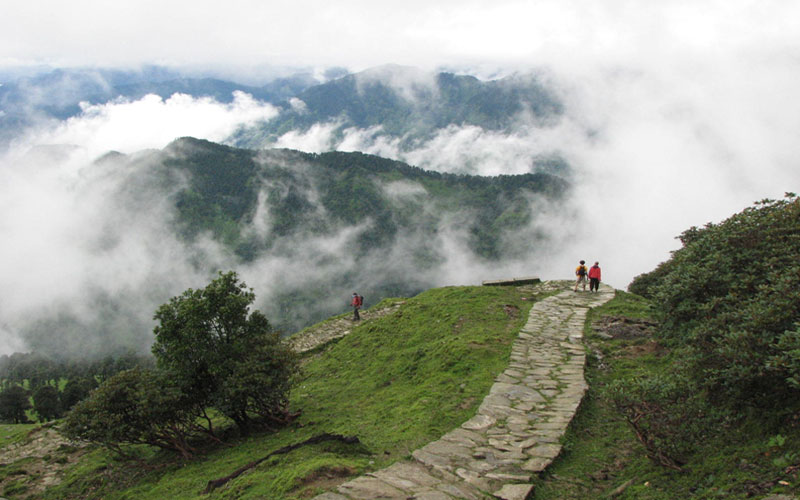 Tungnath and its surroundings stand as ecologically sensitive areas necessitating responsible trekking and preservation efforts. Therefore, it is imperative that trekkers actively engage in minimizing waste showing due respect for the local culture and steadfastly adhering to the principles of Leave No Trace. In light of this let's delve deeper into the practices that ensure the sustainability of this pristine region.
Conclusion
Tungnath the highest Shiva temple and a trekker's paradise, offers a unique blend of spirituality, adventure and natural beauty. Whether you seek a divine connection, an adrenaline rush or simply a retreat into the lap of nature this place has it all. Therefore, when you plan your next adventure in Uttarakhand, consider embarking on the awe-inspiring journey to Tungnath where the divine meets the natural in perfect harmony.
Thanks for reading.
Trendphobia brings you content that aims to inspire and excite you to live an adventurous and fulfilling life. Stay updated with new trends and ideas and follow trendphobia.
You may also read:
Surkanda Devi: A Journey to Serenity in Uttarakhand
Exploring Nainital's Top 5 Cafes: A Culinary Adventure in the Hills
Shikari Devi Temple: A Journey to Remember
Shivya Nath: Unleashing the Wanderlust