Hey there, tea enthusiasts! Welcome to Trendphobia travel blogs. If you find joy in sipping soothing cups of tea and are on the lookout for a charming spot to unwind look no further than The Tea Place By Manjushree in Saket. This hidden gem is a haven for tea lovers offering a delightful experience that goes beyond just a beverage.
A Tranquil Escape
Tucked away in the heart of Saket The Tea Place welcomes you with open arms into a serene and cozy ambiance. The moment you step in you're greeted by the aroma of various teas that promises a sensory journey like no other.
A Tea Lover's Paradise
From classic black teas to exotic herbal blends they've got it all. The knowledgeable staff is always ready to guide you through their extensive selection ensuring you find the perfect brew to suit your taste buds.
Tea and More
But it's not just about the tea at The Tea Place. Their menu boasts a variety of delectable snacks and treats that pair perfectly with your chosen cup. Whether you're in the mood for light bites or hearty meals there's something for everyone.
Warm Hospitality
What sets The Tea Place apart is not just the tea or the menu but the warm and inviting atmosphere created by the friendly staff. It's a place where you can lose track of time, engage in conversations or simply enjoy some 'me' time with a good book.
Also read Bean and the Bear Café: A Cozy Corner in Delhi for Coffee Lovers
Instagram-Worthy Vibes
For the avid Instagrammers out there The Tea Place offers aesthetically pleasing corners that are just begging to be captured. From cozy nooks to charming decor every corner is a photo opportunity.
Affordable Indulgence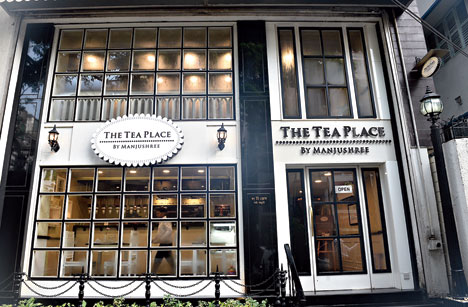 Contrary to the misconception that quality comes with a hefty price tag The Tea Place offers an affordable indulgence. You can relish a premium tea experience without burning a hole in your pocket.
Nutshell
The Tea Place By Manjushree Saket is more than just a tea joint it's a retreat for the senses. So if you're looking for a place to escape the hustle and bustle of daily life sip on some soul-soothing tea and bask in warm hospitality this tea haven should be on your go-to list. After all a cup of tea makes everything better.

Thanks for reading.
Trendphobia brings you content that aims to inspire and excite you to live an adventurous and fulfilling life. Stay updated with new trends and ideas and follow trendphobia.
You may also read:
Soho Bistro & Cafe in Saket: A Cozy Spot for Fun and Good Food
Connaught Place: Delhi's Heart of Shopping and Dining
Signature Cafe in Delhi: A Taste of Delight
Laxmi Nagar, Delhi: A Vibrant Neighborhood
Connaught Place: Delhi's Cool Hub