Hey travelers! Welcome to Trendphobia blog, where I take you on exciting adventures around the world. Let's join me on a mesmerizing journey to Hemkund Sahib, a place of great spiritual significance nestled in the Garhwal Himalayas of Uttarakhand, India. Get ready to witness breathtaking views, rare flora, and the miracles of nature as we embark on this unforgettable adventure.
The Marvelous Journey Begins to Hemkund Sahib
Starting Point: Ghaghariya We started our trek from Ghaghariya, a scenic village located 7 kilometers away from Hemkund Sahib. This village offers basic facilities, including hotels and a Gurudwara that provides free food and accommodation options.
We started our trek from Ghaghariya, a scenic village located 7 kilometers away from Hemkund Sahib. This village offers basic facilities, including hotels and a Gurudwara that provides free food and accommodation options.
Recommended articles : Exploring the Hidden Gems of Chandni Chowk
Challenging the Steep Trek to Hemkund Sahib
A Tough Path: The trek to Hemkund Sahib is steep and challenging, requiring determination and perseverance. Each kilometer took us about an hour to climb, and the trail was even more demanding for us as we were four adults with four small children. To make things easier, we hired a porter, but the kids insisted on trekking themselves.
Divine Intervention and Struggles
The Stairway to Heaven: As we ascended, we were greeted by breathtaking views of the majestic Himalayas and numerous brahmakamal flowers along the path. Despite the high altitude and breathlessness, a divine power kept us motivated to reach the peak.
Overcoming Difficulties: Reaching Hemkund Sahib wasn't without its challenges. One of the children started feeling nauseous and sleepy due to the altitude. We sought help from the free medical dispensaries near the Gurudwara and followed the doctor's advice to keep him awake and walking.
The Miraculous Abode of Hemkund Sahib
Awe-Inspiring Views: As we reached Hemkund Sahib, the view of the magnificent pond surrounded by seven towering mountains and adorned with four waterfalls left us in awe. The sheer beauty of the place was like something out of a fairy tale.
Spiritual Significance: Hemkund Sahib holds deep religious importance, dedicated to Guru Gobind Singh, the tenth Sikh Guru. It finds mention in the sacred text Dasam Granth. Devotees believe in the spiritual and healing properties of the Hemkund Lake and take holy dips in its pristine waters.
Tips for a Successful Trek to to Hemkund Sahib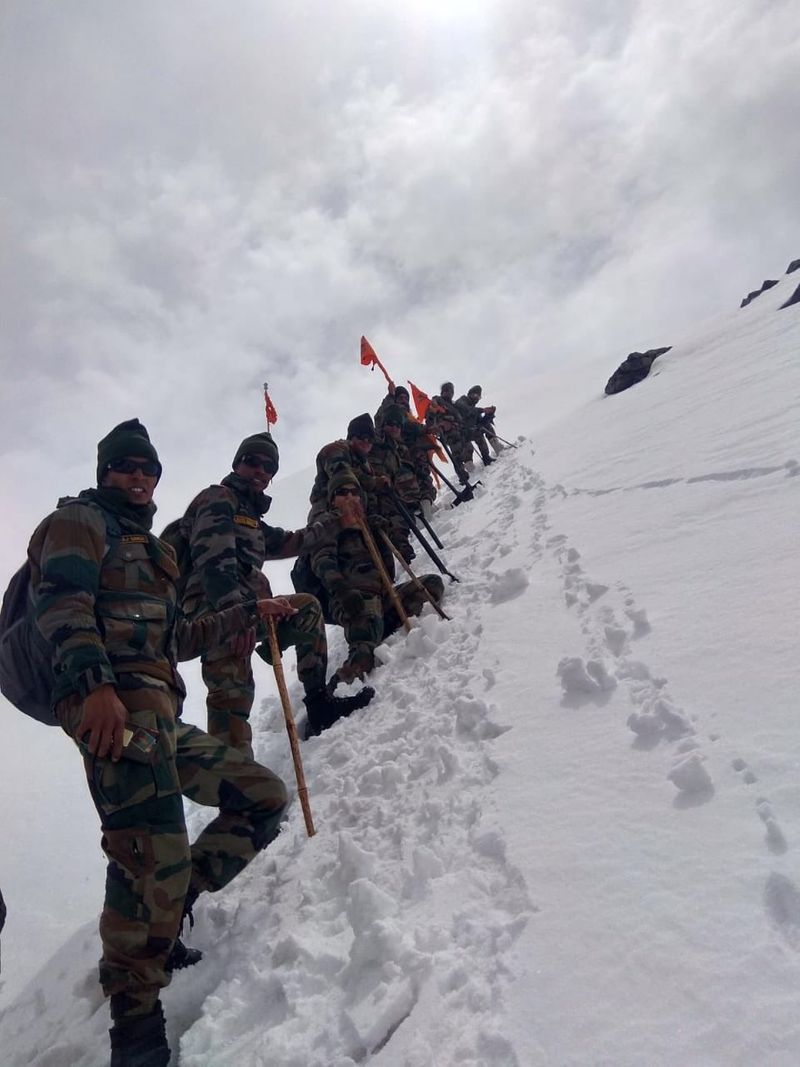 Altitude Precautions: Be prepared for the high altitude, which may cause breathlessness and mild headaches. Take it slow and give yourself time to acclimatize.
Suitable Attire: Wear comfortable and lightweight clothing, especially during monsoon treks. Opt for quick-drying shoes and clothes to ensure comfort throughout the journey.
Hydration and Nutrition: Stay hydrated by refilling water bottles along the way, as water becomes more expensive at higher altitudes. Avoid consuming junk food to prevent indigestion and nausea.
Pace Yourself: Don't rush through the trek. Take your time to enjoy the stunning views and immerse yourself in the experience. Embrace the beauty of the surroundings and savor each moment.
Porter and Animal Options: If needed, consider hiring a porter or utilizing mules or horses to assist you during the trek.
Read more like this: Exploring India's Last Village – Mana Village in Uttarakhand
Hemkund Sahib Trek Itinerary
Day 1: Ghaziabad – Rishikesh – Rudraprayag On the first day of our journey, we traveled from Ghaziabad to Rishikesh by our car and then onwards to Rudraprayag by bus. It was an exciting start to our adventure.
Day 2: Rudraprayag – Gobindghat – Pulna – Ghaghariya We continued our trek, making our way from Rudraprayag to Gobindghat. From there, we reached Pulna and finally arrived at Ghaghariya. Each step brought us closer to the divine destination.
Day 3: Ghaghariya – Hemkund Sahib – Ghaghariya The third day was the highlight of our trek as we set out from Ghaghariya to reach Hemkund Sahib. We marveled at the stunning views and experienced the spiritual essence of this sacred place. After paying our respects, we returned to Ghaghariya.
Planning and Costs
Hemkund Sahib Access: Keep in mind that Hemkund Sahib is accessible only from June to September. Heavy snowfall blocks the route during the rest of the year, so plan your visit accordingly.
Parking and Transportation Costs: Consider the expenses for parking your vehicle at Gobindghat and taxi fares from Gobindghat to Pulna. If needed, mule services are available from Pulna to Ghaghariya for a fee.
Accommodation Expenses: Budget for accommodation costs at Ghaghariya, which typically amount to around Rs. 800 per day. There are basic facilities available in the village to ensure your comfort during the trek.
Additional Costs: Be prepared for additional expenses, such as hiring a porter for children if necessary. The cost for the porter from Ghaghariya to Hemkund Sahib and back is around Rs. 800 per child.
Important Points to Consider:
a. Gurudwara Closing Time: Keep in mind that the Gurudwara closes at 2:00 PM, and visitors are not allowed to stay after that. Plan your trek accordingly to ensure you have enough time to explore and pay your respects.
b. Facilities and Toilets: There are shops and portable toilets available at certain intervals along the route. Make use of these facilities to meet your needs during the trek.
c. Trek Accessibility: Remember that Hemkund Sahib is accessible for approximately 4-5 months, from June to September. Outside of this period, heavy snowfall closes the route, making it impassable.
Conclusion
The trek to Hemkund Sahib is an extraordinary adventure that combines natural beauty with spiritual significance. Be prepared for the challenges it presents, but also embrace the miraculous views and experiences that await you. May your journey be filled with awe, devotion, and a deep connection with nature and the divine.
I hope you've enjoyed exploring this lively neighborhood with Trendphobia Until our next adventure, keep exploring and embracing the wonders of the world. Safe travels!"
Love reading about more places like these? Check out:-
Kasol: A Backpacker's Paradise in Himachal Pradesh